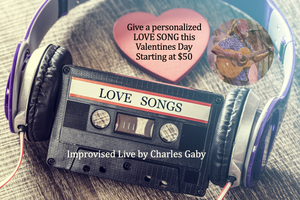 It's been a challenging month so far for many of us, and we need some fun and sweetness! So I am offering to improvise a song for you and your sweeties. I want to make this easy for you to give a fun/flirty/sexy/get down gift to your love. 
Here's how it works: 
You send me some words and phrases. Tell me a name, a feeling, something they say a lot, anything you want. Then give me an idea - if you want it sweet, playful, sexy, exciting, or anything else you feel within your relationship. 
I will improv a song live in one of my performances at McFly's Pub on one of the Wednesday nights between now and Valentine's Day and then I will send you the video of that song. $50 in advance paid to my venmo: @charles-gaby-1   Get Started now!